Paul Oberdorfer. I own a medium sized medical supply company in

Virginia Beach, VA. My email address paulo@air-tite.com Enclosed is

a recent picture of me with my racecar.

Regards,

Paul
---
Sally (Sarah) Richardson (now Oberle) retired /President of Blue Hen Promotions, Inc 29 yrs
2 Danvers Way, Newark, DE 19702
302-463-3800
sally.bluehen@comcast.net
sally.oberle@comcast.net

William A. Oberle Jr, retired/ DuPont Co research 32-years, DE State Representative 34 yrs.
2 Danvers Way, Newark, DE 19702
302-379-45876william.oberle@comcast.net

3 daughters, Sara ,April, Jennifer
8 grandchildren
Sara's-Patrick, Colin, Aidan
April's-Sam, Mazie
Jennoifer's-Kyle, William, Madeline

---


I am alive and well in Corning, NY. My name now is Jody Egleston. I am working for a building and remodeling company as their kitchen and bath designer.
BHS Doers Profile:
* Born: August 12, 1949
* Occupation: Kitchen/Bath Planner - working on my Certification /Part time spokesperson on QVC.
* Last book read: The Not So Big House
* Hobbies: Sewing, decorating, collecting chairs, going to auctions.
* Favorite music genre: Josh Groban
* Favorite movie: Sleeping With the Enemy
* Favorite quote: "When you get to the end of your rope, tie a knot and hang on."
* Recipient of the Following Awards (or accomplishment I'm most proud of): Can't think of any lately!
* Automobiles: 1999 Ford Escort!!
Please put me on THE LIST"
2850 Northwood Circle
Corning, NY 14830
607-962-8527
joegleston@corninglink.com
---

---

My wife (Jan) and I have been married 32 years and we have three children (31,28, and 26) and three grandchildren (9, 4 and 1). We are very blessed because all three kids live in Maryland and the two oldest are married to great people. Jan says our marriage has been 10 of the best years of her life (I hope that's a joke). Since BHS I graduated from the University of Baltimore in psychology and taught at a State hospital for a few years. I then went into sales (equipment leasing, such as airplanes, railcars and factories) and I really enjoy the business and the people I have met through the years. I was hoping to get out of the business at 55 so Jan and I could travel more but the financial markets have not cooperated. We spend a lot of time doing volunteer work through our Church and I am Church Council President (God really has a sense of humor). We are looking forward to the reunion, see you there
Work:
C. Bruce Otto VP Fleet Capital
10480 Little Patuxent Parkway
Suite 400 Columbia, MD 21044
410-740-5662
Home 3604 Horned Owl Ct.
Ellicott City, MD 21042
---
My current info is:

610 S Rome Av

Tampa, Fl 33606

813-230-7772
Wife-Linda "Life's been great. The only thing I would change is my yearbook picture. I would look forward to contact from any class member to see how you are doing. Question: Why didn't we have a 30th reunion?"
---
Charlotte P. Vincent

Stewart Automation

Automation Account Manager

SureClose Regional Specialist

703-352-2902 Direct

800-949-1110 Ext. 2902

703-991-2458 Fax

Need Help? http://www.stewartautomation.com/expertlocator.htm
Kevin,
Susie Chadwick Pokress tipped me off on the Reunion site – looks good! I was just in town over Thanksgiving and wondering what the old farm building was becoming, so it will be fun to actually go there! I don't seem to be on the "lost" list but haven't received any news either so just in case, here's my information:
Charlotte Parker Vincent
5347 Gainsborough Drive
Fairfax, VA 22032
703-425-8266 home
571-213-8407 – Cell
e-mail – charlotte_vincent@alum.conncoll.edu
I couldn't actually figure out a way to put the information in myself or I would have done so.
Thanks for all your hard work!
---
Just wanted to give you a short synopsis of my latest adventures. Married now 35 years to Cliff Kisby We have left New Jersey and retired to Oriental, North Carolina the sailing capital of North Carolina in a water front community called River Dunes off the Pamlico Sound. Sailing, fishing, shrimping lots of traveling and just enjoying the good life. We have 2 daughters Lynda 42 and Alexis 30. And 2 grandchildren Josh 18 currently in college and Lyndsey 16 sophomore in high school.

Pam Parsons Kisby
---

---
Paivi Penttila (Tripp) is married to Jeff , has two adult daughters and two adorable grandchildren. We all live in Akron, Ohio. I met Jeff in Amsterdam, Netherlands, on the way back to Finland from my AFS year in Wilmington, Delaware. Must be destiny! We married the next summer and settled in Akron, Ohio near Jeff's home. After all that excitement, I started studying history at the University of Akron and stayed in school as student, teaching assistant and lecturer for the next 10 years. After MA's in both History and Public Administration, I was selected to a Presidential Management Intern Program and landed an internship with NASA at the Lewis Research Center in Cleveland. After the two-year internship, I was hired by NASA and have been here for some 26 years. Currently, I am deputy division chief in Procurement which means I get to spend a lot of dollars each year for things like satellites, ground stations, launch vehicles, Space Station, research, etc. Through the years, I have stayed in close contact with my American parents and feel that the year I spent at Bandywine was a truly unforgettable experience. Every one was so welcoming and kind to us foreign students. I have so many wonderful experiences from that year. Hope to be able to make it to the Class Reunion!
---

---


Classmate Retirement Update:
Hi. Barbara (Powell) Frost. Our family has been really growing. We now have 10 grandchildren under the age of 7 and 8 of them are girls. We both retired last year and moved to Lake Havasu City*, AZ. We love the warm weather and spending our time visiting his best friend from high school who moved to Las Vegas last year and boating on the Colorado River that we can see from our house. We are looking forward to the 40th reunion since we had such a good time at the 35th. Our new address is:
New Pics*as of 12/04
1. The London Bridge (built here in the 60's by Robert McCulloch)
2. Arizona Transportation
3. Lake Havasu on Memorial Day
4, Our House
5. Topock Gorge (can only be seen from the Colorado River-can't get there by car)
Barbara Frost 3316 Chemehuevi Blvd
Lake Havasu City, AZ 86406
928-453-2584
---
Hi Kevin - I am Leslie Power. Address : 5211 Clipper Cove Road, Midlothian, VA 23112; home phone (804) 739-5466; married to Rick Bishop; one daughter, Lindsey, graduating this Spring from Emerson College, Boston; occupation: VP Real Estate, Foot Locker. Looking forward to the reunion!! Barb Buckley kindly forwarded the reunion announcement email to me.
---

I graduated from American University in 1971 with a B.A. in elementary education. I married my college sweetheart John Hampshire in 1971. I taught 6th grade for 2 years and then went back to school. I got a M.A. in special education from George Washington University in 1974. I then stayed home for several years after the births of our 3 kids: Chris (1974), Joel (1976), and Melissa (1979). Our 2 sons have graduated from college and are working (Thank God). Melissa graduates next year from Denison U. out in Ohio. I have been teaching special education in an elementary school in Howard County, MD for the past few years. John and I have lived in the same house in Columbia, MD for 22 years and have lived in MD for 29 years. A funny coincidence happened in college. I was at a frat rush party helping my boyfriend rush, and someone came up and wanted me to meet someone from my high school. Who was it, but Dan O'Connell, a fellow BHS '67. We have never known each other at BHS even though our last names were close in the alphabet. Dan ended up marrying my sorority "little sister" Linda.
BHS Doers Profile:
* Born: Feb. 19, 1949
* Occupation: Special Education Teacher
* Last book read: Shakespeare's Counselor by Charlaine Harris
* Hobbies: reading mysteries, gardening, walking, swimming laps, shopping, collecting small wooden houses
* Favorite music genre: Classic rock/soft rock
* Favorite movie: Fried Green Tomatoes
* Favorite quote: "If you always do what you've always done, you'll always get what you've always gotten."
* Recipient of the Following Awards (or accomplishment I'm most proud of): ASPO/Lamaze National Volunteer of the Year, 1981; parent of 3 grown children who graduated from college in 4 years and have jobs; happily married for over 30 years
* Automobiles: 2000 Toyota 4Runner, 2000 Toyota Camry
6191 Campfire
Columbia, MD 21045
h (410) 730-1021
w (410) 880-5900
shampshire@comcast.net
---
A 2014 update: After 37 years of working in Washington, DC, I retired from the U.S. Government Accountability Office (better known as GAO) in 2011. I am enjoying immensely being a gentleman of leisure. My wife, Sheila, and I just celebrated our 32nd anniversary and plan to stay in Northern Virginia. Our daughter teaches elementary school, and our son just graduated from law school, and hopes to get into sports management in a non-legal capacity. My primary activity is still running—albeit much more slowly than my days at BHS—having completed 18 marathons and two 50-milers in the past 10 years.

---

Kevin, my "formal" photo, taken in mid 2004 for our running club newsletter, after a long run while training for the Marine Corps Marathon is attached.

My bio:

I have been extremely lucky to have a wonderful wife and children, good health, and a career doing something I like. After high school I received a bachelors degree in economics from the University of Delaware and a masters degree in the same subject from Indiana University. As I write this in 2004, I have been working for the past 30 years for the U.S. Government Accountability Office (better known as GAO) in Washington, D.C. For the past 8 years I have been guiding GAO studies of transportation safety, competition, and infrastructure financing for Congress. I was fortunate to land in a career that fits my interests and temperament. I was also extremely fortunate to meet my wife, Sheila, at GAO. We have been happily married for 22 years and have two great children, Emily (a freshman in college) and Mike (a sophomore in high school). For recreation, I continue to run. Mike and I received our red belts (the one just before black) in Tae Kwon Do this year but gave it up so that he could concentrate on social activities and I could train for my first marathon.
---
Raughley, Rose (Anne Marie) Zerra

Kevin, Here is the 2011 update. I don't have the Post office box anymore but still live in Florida. My e-mail is rosezerra@gmail.com and I am on Face Book now and enjoy hearing from classmates even though I remember very little about any one. My father passed away a few years ago and my mother lives in the retirement community that is on the site of the former Forwood Junior High School. My husband is a pianist in a Blues Band and he has a CD of piano boogie woogie and blues that was released recently. Our older son is intellectually disabled and lives at home. He is pretty independent. The young one is 20 and in college and plans to shoot for a PhD in history of religion. I got a masters in exceptional education a few years back and work with special population children in the public school. Since I teach, I still get my school photo every year. Attached is the latest photo. Rose Anne Zerra (aka Anne Marie Raughley)

~~~~~~~~~~~~~~~~~~~~~~~~~

Kevin, I was Anne Marie Raughley class of 67, I talked to Pat Walker last night on the phone and she told me about this web site. I gave her my home address, but would rather use the PO box which is Rose Zerra, PO BOX 354, Ormond Beach, FL 32175. I changed my name when I was 27 to Rose Anne Marie and later married Paul Zerra who is a musician (Blues pianist). We have two sons who are 24 and 15 and we live near the beach. Around the time of my 50th birthday, I got a masters degree in exceptional education (special Ed) and began a career as exceptional education teacher. I have moved a lot of times just for the fun of it, but did live in the Berkshires in Massachusetts for nearly 10 years before we moved to Florida in 1997.

My parents still live in the same house on Foulk Rd that they bought when I was 4. My younger sister, Paulette (class of 69) is retired and lives in New Mexico in the mountains with her husband. Thanks for doing all this work for the reunion.

Rose (Anne Marie) RZERRA@CFL.RR.COM
---
billread4@gmail.com 405 Drake Lane League City, Texas 77573
---

Thought I would check in with you and let you know a little of what I have been doing. After high school I enlisted in the Air Force and ended up spending 20 years there, I retired in Dec 87. Since then I have done civil service work at Hill Air Force Base in between the reduction in force actions that were taken by the government. The last four years I worked at the Ogden, Utah airport as a manager for a small aviation company and right now I am retired again trying to decide what I want to be when I grow up. I have two sons, both of which have two children. I am a very proud grandfather.

In my spare time I play a little golf and drive my race car of 20 years. I compete in the local SCCA Solo II competitions.

My e-mail address is - r22rebmann@aol.com

Mailing address is - 1382 N 1500 W
Farr West, Ut 84405

Bob Rebmann

---

Art Ringwald http://www.usfamily.net/web/artringwald/ Check out Art's Website
7102 47th Circle
Oakdale, MN 55128
(651) 779-8031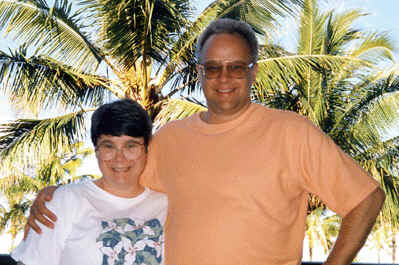 Married Joanne Loughrey (also BHS 67) in 1970. Had two kids. Moved to Minnesota in 1979. Working as a software development specialist for 3M's Digital Imaging Lab. Our daughter got married in 1993 and now has two very entertaining children. Our son got married last Sept. and we really enjoy this empty nest thing. We miss the ocean, but do not miss the east coast traffic. Minnesota summer's are really great, but the winters...not so much.
---
(From the Legg Mason Website) Andy Robertson is the administrative manager (at) Legg Mason. He holds the designations of Financial Advisor and Wealth Management Specialist. After graduating from the University of Delaware in 1972 with a degree in Business Administration, Andy was commissioned as a 2nd Lieutenant in the U.S. Army. When he completed his service, Andy went to work for Liberty Mutual Insurance Company, and later started Andrew Robertson Search, Inc. an executive search firm. It was during his 19 years in that industry he learned the value of company sponsored benefits, especially retirement plans, to attract and retain key employees. He joined Legg Mason in 1993 to specialize in that area. Andy was recognized for providing superior service to his clients by receiving Legg Mason's "Pacesetter Award." He enjoys public speaking on retirement related topics, whether it is at local business association dinners or one of the AR Groups monthly educational roundtables for their clients. He is the past president of his church Board of Trustees, a Mason, and served on the Millennium Committee for the Ronald McDonald House. Andy lives in Reisterstown with Angela, his wife of more than 25 years, and their 2 children. In his spare time, he enjoys carpentry, antiquing, digital photography, and playing golf
Andy Robertson
338 Lauren Hill Ct.
Reisterstown, MD 21136
andyatlegg@comcast.net
---

361 High Rock Road,
Hanover,Pa. 17331.
---

Updated 7/05
Hi Kevin - The website gets better each time I look at it. (I haven't been there in awhile.) I'm still living in Linthicum with my husband, Bill. We have been married for 26 yrs. We have 2 daughters. Kerry is 20 and is a junior at Nazareth College in Rochester, NY majoring in speech pathology. Brenna is 16, a senior in high school and wants to be a physical therapist. I have been with Baltimore County Public Schools for 35 years. I am currently an Instructional Support Teacher. I'm looking forward to the reunion.
---

My name is now Linda L. (Roche) French. I live in Elkton, Maryland, 106 Murray Road. I am married with two grown children. I work at Cecil Community College in North East, Maryland as a Human Resources Associate
Linda L. French
Human Resources Associate
Cecil Community College
410-287-6060, ext. 277
---

---
3322 Altamont Drive
Devonshire
Wilmington DE 19810
302-478-9263