Remembrances of Wilmington
I Remember Wilmington;

Send us your memories of growing up in Delaware.


Sledding at Rockford Park and the Rockford Tower
I Remember Wilmington - send us your own fond memories of growing up in Wilmington and I'll publish them here. The first group here was from a list I sent to a classmate prior to the 35th reunion. I'm sure you've got your own set of memories; send them along for publication here. (Kevin Donohue)
Going to 'Twin Lakes' on Kennett Pike for ice-skating

Salesianum (Sallies) dances

Aldersgate Methodist Church canteen dances

'Hopping cars' with your sled in the snow-one time I "hopped" a Wilm. Transit Bus that took me from my house on 21st Street-Baynard Blvd all the way to PS DuPont HS.

'Kiddie Town' on du Pont Highway

Mounting a playing card on your bike so the spokes would create a 'motor sound'

Sledding on "Monkey Hill" near the Wilmington Zoo-loved this place as a kid-"Suicide Hill" was across the street-it was really only a foot path thru the woods and was really steep. I once rode my bicycle down Monkey Hill in the summer, hit a curb and went flying head first. Broke my wrist when I landed and didn't realize it until several hours later when I could not use my thumb and forefinger to button my dungarees.

Lynthwaith's Ice Cream on Rt. 202 with the target on the trash can at the exit.

Achenbach's Soda Shop on 26th Street – this was owned by Peggi Mitten's aunt

Gassers Pharmacy on Washington Street-Mr. Gasser lived two doors down from our house on Baynard Blvd. He used to bring me baseball card bubble gum packs

Joan Roberts across from the Wanamaker's Store on Augustine Cutoff. My mother used to take me to Joan Robert's for my clothes "stand up straight" she would always say.

Colonial Chevrolet, Delaware Olds-I worked there as a lot boy one summer-our neighbor (Boots Campbell) on Clermont Rd was the dealership manager-I once drove an armored truck across the lot and realized (after it was moving) it had no brakes! Scary!!

Rick's Riding Academy on Rt 202 just across the PA line & next to the tiny St. Cornelius stone church;

The Dog House-Concord Pike-got fired there for not remembering the prices-Dave Porter's favorite eatery

Lanks Sub Shop on Concord Ave

Dunbar Bicycle Shop at 9th & French Sts-I received the most beautiful Shelby English bike from there one Christmas. Later stolen Grr!

Horisk's Grocery Store –our family's first Wilm apt was above Horisks on Del Ave. One day, my birthday, the Oscar Meyer wiener man in the (Weiner Mobile) came to our door! Was I impressed or what!

Wilmington Dry Goods store-loved the smell of popcorn, wooden floors, I bought my first music albums there (Judy Collins and Frank Zappa).

Our First "house" at 1900 Del Ave in the early '50's. Believe it or not, today in bright white paint, it is the Doherty Funeral Home-


The Brandywine Raceway lives!. Google Satellite view of the outline of old Brandywine Raceway, (now demolished) juxtaposed next to the nostalgic Larry Anderson painting - (see link to his studio above).
A Blast from the past; Listen to 1380 AM - Wonderful WAMS - http://www.oldwilmington.net/sounds/wams.rm

Lynthwaite's Ice Cream and Spring Lakes Par-3 Golf Course original locations on 202 found. More

Spring Lakes Par-Three Golf Course Found on Google Satellite Map!
http://maps.google.com/maps?f=q&hl=en&geocode=&q=Lynthwaite+Farm+4725+Concord+Pike,+wilmington,+delaware,+19803&sll=37.0625,-95.677068&sspn=30.682067,58.535156&ie=UTF8&ll=39.862153,-75.541327&spn=0.007247,0.021329&t=h&z=16&layer=tc&cbll=39.86444,-75.543963

From Old Wilmington.net. Google view of where Lynthwaite's once was on the Concord Pike.
"Lynthwaite's Ice Cream See Map had TWO locations. The first location was on the west side of Concord Pike. The west side is the side that the Chuck Wagon is on - if you know where that is. The SECOND location, 4725 Concord Pike, was on the east side of Concord Pike - the side where the Concord Mall is. The second location would have been between Double Tree and the Concord Pike Village. I would guess that the two locations were across from each other and maybe 200 yards apart. The Chuck Wagon side was where the farm was. The exact location is NOT recognizable - it is not there. It may be the mound of dirt between the two places mentioned. If you are in the area of Mitchell's in Fairfax, every year they put old photos in their windows. One shows the second and last location of Lynthwaite's. The building is alone - nothing else is near it. There are no survey markers to point it out - you just have to visualize it"
Lynthwaite's Homage From Old Wilmington.net - http://oldwilmington.net/oldwilmington/lynthwaite's.html

Five Decades Ago, a Wilmington first amendment movie Controversy surrounded the Edgemore Theatre owner, Daniel Cudone And the Catholic Legion of decency.

March 18, 2008 DuPont shaped good legs - Wilmington women first to buy, wear nylons
<![if !vml]>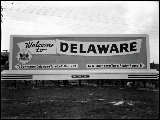 <![endif]>"I'm From Delaware" on U-Tube http://www.youtube.com/watch?v=mRsWdTO6P7o

Postcards From The Edge; (actually, from the early 20th century); nostalgic views of a by-gone era=http://oldwilmington-ivil.tripod.com/
Mitchell's In Fairfax is Fifty:

Some great historical pictures of the Fairfax area on display during their anniversary - stop by to take a look! (NOTE - Oct. '08 - Mitchell's is now closed. The Mitchell family would like to thank their customers over the past 55 years.)
Delaware Fun Facts - Did You Know?... Also - You know you're a Delawarean if...........
Jake's Woods - (click here) a remarkable story by Gerald Loeb award winning journalist; Maureen "Muffy" Milford (Crowley) - Wilmington News Journal Staff Reporter and member of the Class of 1967. Also; "
Lights are flickering but not yet out at drive-ins," Muffy's most recent homage to the Drive-In Movie Theater.

Also, don't miss Muffy's story on the status of the old John Wanamaker's Augustine Cut-off store. (click on Accenture picture).
Old Wilmington dot net
-
Nostalgia for D.P.W.'s; (Displaced Wilmingtonians)
"Time Honored Traditions" from the Wilmington Flower Market by:
L. S. Anderson Reproductions, Inc. (Wilm. DE)
Broadcast Nostalgia - Chief Halftown, Sally Starr, Pete Boyle et.al.

RAPA Brand Scrapple
Do You Remember?
P.F. Flyers, Telephone numbers with a word prefix...(Olympia 4-601). 35 cent gas, Jiffy Pop popcorn...
Take Me Back To The Sixties! http://moreoldfortyfives.com/TakeMeBackToTheSixties.htm
Take Me Back to The
Fifties!
http://oldfortyfives.com/TakeMeBackToTheFifties.htm
Let's Go Down Memory Lane;


7. 28. 08 The Tail of Two Dog Houses (Click Here)

7.3.08 Jack's Place - The Montchanin Train Station - Many of you may recognize this structure as the Montchanin Train Station (Rt 100 & Kirk Rd) - adjacent to the Inn at Monchanin. However, it was also classmate Jack Klingerman's "home" in the early 70's. Jack lived on the second floor, the walls were covered in cardboard egg crates and foam, I guess to deaden the sound. The first floor in later years became a gourmet carryout (Puffs). The building still stands as far as I know. Leave it to the "Klingerbear" to find an unusual & unique place to live.

May '08 Plaid Crab Memorial Day Weekend Memories (More)